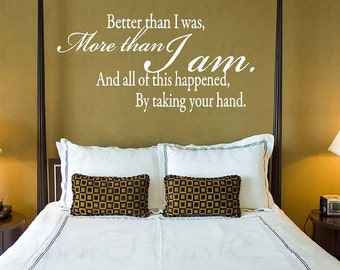 Living life has been a series of moments and seasons, many beautiful but also some very painful.  I often look back on my life and describe the ebb and flow of life as seasonal and know that if I am in a bad season, it too will pass and make way for the beauty to show its kind face again. For the bad never lasts, it changes sometimes not as quickly as we would like but when brightness does appear it leaves you with a feeling of fresh buds blooming again, and the sun comes out to shine once more…
Amongst all of the changes we have lived through over the past 25 years, there has been one solid constant in my life ~ you.  You have been there for me like a beacon, shining a light when my dark days came, lifting me up when my tears would not stop, loving me even when I did silly things or made mistakes, you have never stopped.  In all the time I have known and loved you, things, people and life have changed around us…we have lived in 10 different houses in that time, have bought and driven 11 different cars, I have worked at 13 different job locations, created and watched our children's lives evolve, been poor and in recent times a lot more comfortable. Our life together has been wonderful, busy, at times stressful and very painful but more often than not beautiful…
I was a young girl when we met, barely out of home, having just returned from my first overseas adventure and was not looking for romance when you walked into my life and stayed.  I have spent my whole adult life with you by my side.  Over this time we have grown, made mistakes, loved deeply, lived, hurt and painfully lost parents, siblings and best friends and cherished our way through the days weeks and years to this point.
 I love how you always call me your pretty lady, that my favourite place in the whole world is inside your hug, how you seem to remember every little gift I have bought for you over the years and where we were when I bought it, how you have never forgotten anything I have ever asked you to do for me, how you love shopping as much as I do, how you get as excited as me when we are looking at home furnishings and planning what to do next in our home, how you treasure our little getaways like they are sacred and take copious photos to capture how special our time away together always is.
I love how our dreams have not separated us but bought us closer, I love that we can talk about them for hours. I love how when we are having visitors or preparing for a party you just go into cleaning mode and make sure our beautiful little house shines because you love to show it off as much as I do.  I love that I can come home from work after my long commute and I don't have a husband sitting there waiting for me to arrive to say 'what's for dinner?' I love the fact that even though I have clearly put on weight during menopause, you still say I am gorgeous and how you always encourage me when I am ready to change my career or life in anyway, you never tell me it cant be done or you don't want me to do it, you support me all the way.
 When we stood at that pulpit in St Theresa's church Essendon on the 15th September, 1989, Fr Mallally told us we were in for a big journey and that it will be bumpy at times and test our resolve and that there will be dark days along the way along with the beautiful ones.  Well, the dark days did come and we stood in the face of those trials and overcame the obstacles together, for this I am forever proud of you that you have never taken the easy way out, we have faced the difficulties together and come out stronger on the other side.
So…on the eve of our 25th Wedding Anniversary, I know how very special this milestone is for us, its a privilege that is becoming rare and I want to say thank you for being by my side and choosing to stay, for protecting me always and loving me like you do, you are an amazing husband and I know that I am very lucky to have loved the way we do and only pray we still have many years left in front of us.  And if I had to do it all again, yes… I'd choose you…