Oh My Goodness! I know that in my heart I have spent 30 years dreaming of our upcoming trip but the truth be known, I had almost given up dreaming of ever travelling far & wide with my husband. As the years wore on there just never seemed to be any real money to do a trip properly among our busy lives of early army days of moving around and bringing up children, then buying a house, caring for aging parents or a house full of pets and as Bill got older with a few more aches and pains, travelling seemed to be something he thought he just couldn't do, and I thought I would just keep dreaming about it forever…
But its true what they say, everything has a season, and our season is almost here. And its also true, no matter how far fetched a dream may seem, or how far away it may appear right now, hold on to it tight and never let it go because life has a way of making our deepest desires a reality as long as we keep that burning desire flickering away, that dream will eventually find you…
When I last stood on European soil, I was a young 22 year old, who had an amazing experience of turning 23 in Monaco on a rather wild contiki tour, a birthday memory which has stayed with me all these years as it was an incredible experience celebrating it in another land, however one other memory sticks with me even clearer; somewhere near the Colosseum on that trip in 1987 I remember standing on a bridge in Rome and gazing across at the magnificence that was in front of me and whispered very quietly to myself that as long as I lived, I didn't care how long it would take but I vowed that:
'I will come back again
one day
and see it all properly'
And even though Italy has been scratched from our amazing itinerary, I have a plan to still do Italy properly in a few years from now as it really does need more than a fleeting visit, but right here now, in front of me, lies 10 more weeks of waiting until I get to travel again to finally see the western side of the USA (a trip I had just started saving for soon after I returned on my first overseas trip 30 years ago) but was distracted by a young soldier who walked into my life, fell in love, married and had two children and now after all this time I get to share with Bill some of the wonder I have already seen through parts of Europe and also experience of brand new places for both of us. This trip will be so more sweeter as we travel around the world in 90 days making a big dint in both of our bucket lists.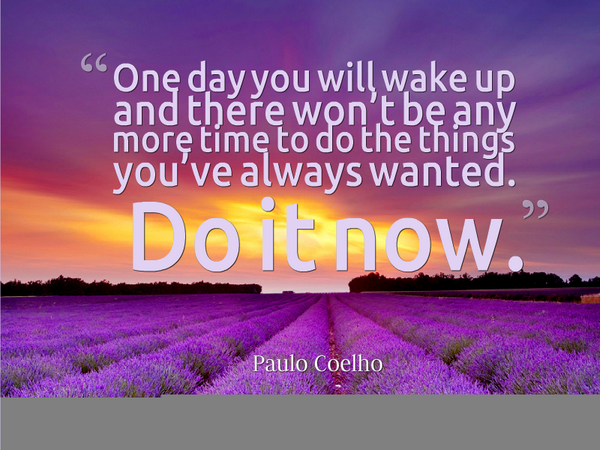 We all talk about our bucket lists and jokingly say 'thats on my bucket list' but its one thing to have something on there and another to actually see and feel the magic of ticking off those items/locations/feelings/experiences on that list.  It's brave and courageous and sometimes scary to begin the process of ticking off each of those items as some take a little effort, most require a bit of planning and many take time to get to them.
But if what is on your list is continually pops into your head, then you will reach it, its not a matter of maybe one day, its a matter of when can you do this whatever it may be.
So, my planning is all just about done.  I have swapped some of the booked accommodation to airbnb places so we can have a bit of space, somewhere to stretch and wash some clothes and am excited about experiencing living like a local on some of our visits.  I love the whole Airbnb philosophy and the community is refreshing, most hosts are travelers themselves who understand what is important particularly on a big trip like ours, good beds, a washing machine, a bit of room for both of us to really relax at night and a good shower were high on my list when I was searching for the perfect accommodations.
Our very first Airbnb will be in Hollywood, in a little Californian bungalow a few streets down from Melrose Drive & Sunset Blv but hopefully far enough away to be a bit quieter. I found it a better option than some of the hotels in that area which didnt seem to quite make the mark, and we need to be within walking distance to most things, so this will be very interesting.  After finding this, I then decided to explore airbnb options in New York as I had spent weeks contemplating a suitable hotel.  Finally, I settled on an apartment not in Manhattan, but across the Hudson river in a place called Weehawken in New Jersey so we will commute across the Hudson by ferry or under the river via the Lincoln tunnel by bus each day. This itself should be fun and give Bill plenty of opportunities to capture the perfect New York skyline from across the river. I particularly love the look of that unit, it looks stunning! Next I went for a small apartment in London, just down from London Bridge. Again, the hotels were either too small or too expensive. Following this, I have found a unit in a beautiful old building within the ancient walls of York city and then again in Edinburgh on the Royal Mile so right in the thick of things and lastly after months of searching for the perfect hotel in Paris, I have booked an apartment within a beautiful old Parisian building described as having stunning views over Parisian rooftops and few streets away from the Eiffel Tower – this one I can hardly wait for!!
So, accommodation just about all sorted, cases decided upon (we opted out of carry-on a few weeks ago and upgraded to middle size cases and check in), both sporting some new clothes and comfortable shoes packed, cats living arrangements settled upon, my passport renewed and paid for yesterday, both losing weight so we are fitter and leaner for this journey and nothing else major to decide upon, work towards or still need to purchase.
All I need to do now is get through the next ten weeks of work, that may just be the hardest ten weeks of my life…